Judging Panel
We are delighted to announce the 2019 judging panel.  Our judges will be considering completed nominations received by deadline (July 31st), in early September at which time the shortlist will be confirmed and contacted.  The final winner in each Award Category will be announced at our annual Conference & Awards on Monday September 30th, 2019.
---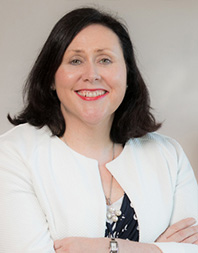 BRENDA JONES, HEAD OF BUSINESS CARE, THREE
Brenda is Head of Business Care in Three Ireland working with a team of 120 staff and spends her time between the Dublin office and the Contact Centre in Limerick.
Brenda has worked for Three for the past nine years and prior to that was with 02 for six years. Her Team offer best in class customer support to business accounts in Enterprise, SME, Soho and ICT across all products. The aim is to make life better for their customers with products and services that make a difference to their business.
Brenda puts a lot of time into people development and believes strongly that it always pays off. Brenda started her career in Dell where she held both sales and management roles. Brenda holds an MBA from Henley Business School.
---
DEIRDRE DUNNE, PARTNER, MATHESON
Deirdre Dunne is a partner and head of Business Development at Matheson.
Deirdre established the firm's office in Palo Alto, California in January 1997 where she was resident counsel for seven years. During this time she advised North American companies establishing operations and conducting business in and through Ireland.
As head of Business Development at the firm, with extensive experience in practice, Deirdre leads the firm's sales strategy. She is responsible for managing programmes to increase new business generation, support multi-jurisdictional client relationships, strategic sales planning and client relationship management. She is also responsible for client development, identifying clients' requirements and ensuring the firm meets our clients' needs and expectations.
---
PATRICIA MONAHAN, MANAGING EDITOR, NEWSTALK

Patricia Monahan has worked for Newstalk for 17 years, joining shortly after the station launched as a Dublin only service in 2002.
Initially working as a researcher on Lunchtime with Damien Kiberd, she quickly progressed to the role of producer on the Lunchtime News programme.
From there, she went on to produce a number of key programmes across the schedule and was centrally involved in the station's national launch in September 2006. She became Deputy Editor at the station in May 2010 and has since taken the lead on a variety of major projects at the station including the launch of The Pat Kenny Show in September 2013 and the station's new schedule in September 2016. She was appointed Programme Director at the station in May 2015 and made Managing Editor in April 2017.
Originally from Ballyjamesduff, Co. Cavan, Patricia has a BA in English and History from Trinity College Dublin and an MA in Journalism from Dublin City University. She lives in Dublin with her husband and three daughters.
---
JULIE ENNIS, MANAGING DIRECTOR, CORPORATE SERVICES, SODEXO IRELAND

Julie Ennis joined Sodexo Ireland in early 2019 from Bank of Ireland, where she was the Head of its Mobile Sales Force for three years.
Julie is responsible for the management and strategic growth of Sodexo's corporate services offering in Ireland and Northern Ireland. Within the corporate sector in Ireland, Sodexo works with clients in finance, pharma, technology and FMCG, including Ervia, Gas Networks Ireland, Bord Bia, Central Bank, PayPal, Dell and Microsoft.
Julie held numerous senior roles in sales, product development, strategy and operations at the Bank of Ireland Group. She was a Group Sponsor of Bank of Ireland's Be At Your Best' employee wellbeing programme and a committee member of its LGBT and Gender Balance networks. She is an MBA graduate of the UCD Michael Smurfit Graduate Business School and a National Council member of the Executive Institute.
---
ROSEMARY DELANEY, MANAGING DIRECTOR, WMB
Rosemary Delaney has worked in the publishing industry for over two decades,

She represented Magazines on the Press Council of Ireland and was previously Chairperson of the industry body, Magazines Ireland. In 2006, having reached the top tier in her industry, Rosemary took a leap of faith and launched WMB Publishing and the platform WomenMeanBusiness.com. The website is targeted at female entrepreneurs and businesswomen. WMB hosts the very successful annual WMB Conference & Awards, which celebrates the best female talent in the country. WMB, which is 13 years in business, also provides publishing consultancy to a number of blue chip clients.
In 2012, Rosemary's first book was published by Orpen Press: Women Mean Business – One Woman's Journey into Entrepreneurship. In 2014, she was appointed to the Board of InterTradeIreland for a period of four years.
Rosemary lives by the mantra which she borrowed from Walt Disney 'If you dream it, you can do it'.
---