Judging Panel
We are delighted to announce the 2017 judging panel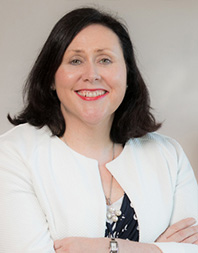 BRENDA JONES, HEAD OF BUSINESS CARE, THREE
Brenda is head of Three's business care function consisting of 120 agents based in Three's Customer Care Centre in the National Technology Park in Limerick.
Brenda has worked in Three for almost seven years having previously spent six years working for O2. As part of the integration of the two organisations she took on the role of SME Retention & Growth manager. A truly people-focused and driven individual, Brenda played a pivotal leadership role guiding both her team and customers through integration and rebrand. Brenda started her career in Dell where she held both sales and management roles. Brenda holds an MBA from Henley Business School.
TARA DOYLE, PARTNER, MATHESON
Tara Doyle is Chair of the Irish Funds Industry Association and Partner and Head of Matheson's Asset Management and Investment Funds Group which continues to be ranked as the number one funds law practice in Ireland. In parallel with the sustained growth that Ireland's funds industry continues to experience, Matheson's Asset Management and Investment Funds Group is ranked Ireland's leading funds practice by assets under management for the sixth year in a row. Matheson acts for in excess of 29% of Irish domiciled investment funds by assets under management as at 30th June 2016.
Tara has been named Europe's Best in Investment Funds in 2017, for the 2nd year running, by Euromoney at the Women in Business Law Awards. She has been highly commended by a number of leading industry directories, including the European Legal 500 and Chambers Global & Europe. Ms Doyle advises many of the world's leading financial institutions, investment banks and asset management companies with operations in Ireland.
Tara also serves on the 30% Club Steering Council in Ireland, and is the Matheson representative on the 30% Club Professional Services Firm working group. The 30% Club promotes female participation on boards. Diversity is a strategic priority for Matheson and Tara is a member of Matheson's diversity steering group. Tara was named as one of the 50 Leading Women in Hedge Funds in 2017 by the Hedge Fund Journal, the only Irish-based professional to make the list.
PATRICIA MONAHAN, MANAGING EDITOR, NEWSTALK 106-108fM
Patricia Monahan has worked for Newstalk 106-108 fm for 15 years, joining shortly after the station launched as a Dublin only service in 2002. Initially working as a researcher on Lunchtime with Damien Kiberd she quickly progressed to the role of producer on the Lunchtime News programme.
From there she went on to produce a number of key programmes across the schedule and was centrally involved in the station's national launch in September 2006. She became Deputy Editor at the station in May 2010 and has since taken the lead on a variety of major projects at the station including the launch of The Pat Kenny Show in September 2013 and the station's new schedule in September 2016. She was appointed Programme Director at the station in May 2015 and made Managing Editor in April 2017.
Originally from Ballyjamesduff, Co. Cavan, Patricia has a BA in English and History from Trinity College Dublin and an MA in Journalism from Dublin City University. She lives in Dublin with her husband and two daughters.
MARGOT SLATTERY, COUNTRY PRESIDENT, SODEXO IRELAND
For her role in promoting diversity and inclusion within and outside Sodexo, Margot, Country President, Sodexo Ireland, won a Trailblazer Award at the 2016 WXN Most Powerful Women in Ireland Awards.
She appears on the Out at Work/Telegraph's 2016 list of Top 50 LGBT Executives, OUTstanding/Financial Times' 2016 list of Top 100 LGBT Business Leaders and Cranfield University School of Management's list of 100 Women to Watch in 2016.
Margo was Image Magazine's CEO of the Year as well as Irish Tatler's Businesswoman of the Year in 2016.
MARTHA RYAN, HEAD OF HR, BOOTS IRELAND
Martha holds a key role within the leadership team of Boots Ireland which employs over 2,000 employees. She is passionate about the role of HR and believes that HR is central to the achievement of a successful business. In her time with Boots, Martha has been instrumental in developing the HR function within Boots.
An advocate for the role of Boots in the community, Martha has a strong focus on care for colleagues, communities and customers.
ROSEMARY DELANEY, MANAGING DIRECTOR, WMB
Rosemary Delaney has worked in the publishing industry for two decades. She represented Magazines on the Press Council of Ireland and was previously Chairperson of the industry body, Magazines Ireland.
In 2006, having reached the top tier in her industry, Rosemary took a leap of faith and launched WMB Publishing and the platform WomenMeanBusiness.com. The website is targeted at female entrepreneurs and businesswomen. WMB hosts the very successful annual WMB Conference & Awards, which celebrates the best female talent in the country. WMB, which celebrated a decade in business last year, also provides publishing consultancy to a number of blue chip clients.
In 2012, Rosemary's first book was published by Orpen Press: Women Mean Business – One Woman's Journey into Entrepreneurship. In 2014, she was appointed to the Board of InterTradeIreland – the organisation, which has been given responsibility by both Governments to boost North/South economic co-operation.
Save
Save
Save
Save
Save
Save
Save
Save
Save
Save
Save
Save
Save