Awards Lunch Partner: Irish Distillers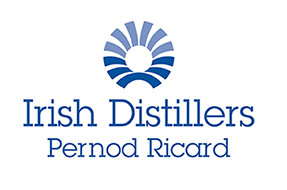 Irish Distillers is Ireland's leading supplier of spirits and wines and producer of the world's most well-known and successful Irish whiskeys. Led by Jameson, its brands are driving the global renaissance of Irish whiskey. Jameson is the world's fastest-growing Irish whiskey, experiencing 26 years of consecutive growth and hitting sales of 5 million cases in 2015. Its brands are exported to 130+ markets, with over 50 of those experiencing double or triple-digit growth.
Irish Distillers was formed in 1966, when a merger took place between John Powers & Son, John Jameson & Son and Cork Distilleries Company. In 1988 Irish Distillers joined Pernod Ricard, gaining access to unprecedented levels of investment and an extensive global distribution network. In 2015, the company completed a €220 million investment which doubled its production and bottling capacity to meet global demand for its products.
Irish Distillers employs over 600 people across its operations in Cork and Dublin.